In this article we will detail the information available inside the Videos tab when analyzing a topic.
First you need to select a topic that you want to analyze more in depth. If you need some help to understand how to find relevant topics for your audience you can click here.

Watch the video tutorial on this article. Check them out!



Within a topic it is possible to browse through 6 available tabs. They are: Overview, Videos, Subtopics, Tags, Audience and Creators. Each contains specific information that helps with culture analysis. Next, we will understand what is available on the Videos tab.
Now that you've selected a topic it is possible to see the videos related to it and apply different filters for your analysis. Below, we will explain how to use these features as highlighted in the following print: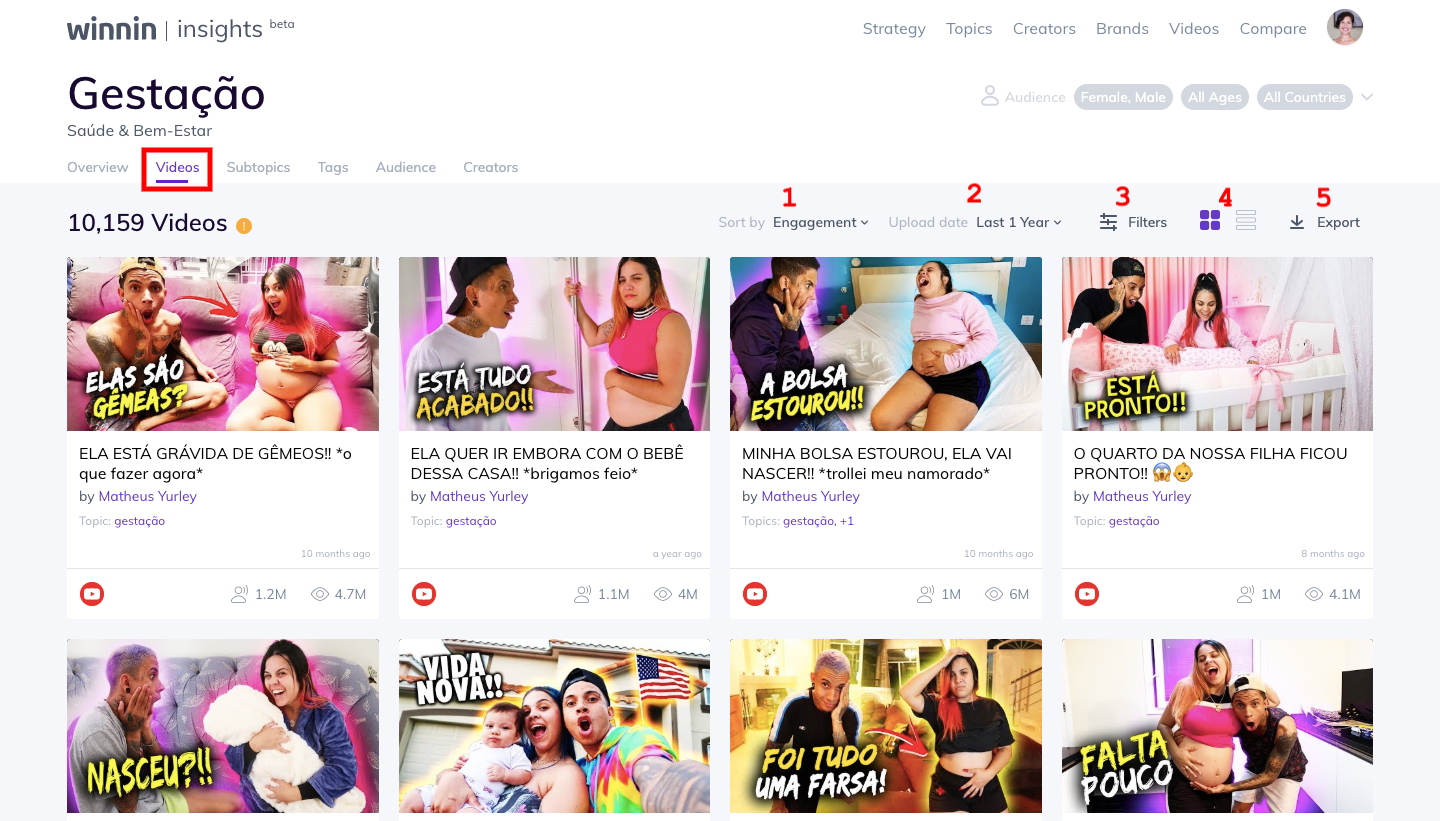 Sort by
By default, the videos on this tab are sorted by engagement. However, it is possible to change the sort order so to: Engagement, Views, Upload date, Likes, Dislikes and Comments.


Upload date
On this filter it is possible to choose the time period you want to view according to period of times. By default, the listed videos are content produced in the last 1 year.

However, it is possible to change the sort order to show content produced in 7 days, 30 days, 3 months, 6 months, 9 months, 1 year or throughout the period.




Filters
You can filter from which platform you want to view the videos. The available platforms are Facebook, Instagram and Youtube.


Visualization forms
There are two ways to visualize the videos. In cards, the option that is already defined by default and also in table. To change the way of viewing just select the desired icon.




Export
The export is used to export data from a specific search performed. The exported data arrives in your e-mail available for download in .cvs or Excel format.

The Topics Summary option exports a list with a compilation of metrics related to the topic in question.

The Videos List option, on the other hand, exports a list of all related videos from the search that was performed.



It is worth remembering that the use of this functionality is limited within the month. When starting a new month this value will be reset and will be available again if you reached this feature usage limit. To check the availability of exports just click on the Export button then click on one of the available options.


Viewing information for a specific video


If you want to watch or analyze more information about a particular video, you can click on the thumbnail in question to access it.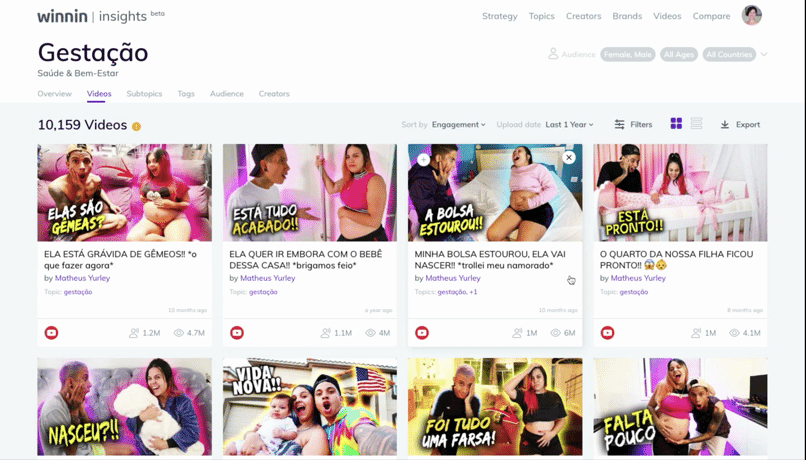 We will give you more details about the information provided in a specific video by clicking here.

If you still have any questions regarding the videos listed within the topic, contact our support team via email cs@winnin.com or contact your account manager directly. :)


Great insights awaits you!
#WinIt!