In this article, we will detail the information available on the Performance tab when analyzing a Topic.
Initially, to find the Performance tab, you need to select a topic that you want to analyze. If you need help to understand how to find relevant topics to your audience, click here.

Inside a topic, you can browse through the 7 available tabs. They are: Overview, Videos, Subtopics, Tags, Audience, Creators and Performance. Each one of those contains specific information that helps on the culture analysis. Next, we will understand what is available in the Performance tab.

The Performance Tab aims to understand the evolution of a given subject over time through the video consumption and the volume of content production. In it are presented two graphics available that give us this evolution as we can see in the screenshot below:


Relevance Index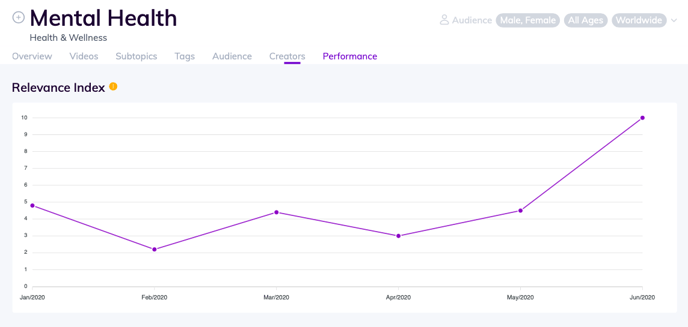 The Relevance Index, indicates the relevance of a topic taking into account the views that subject had in a given period. The relevance scale is ordered from 0 to 10, varying according to the relevance of each subject. It is possible to analyze the data for the last 6 months.
Monthly Video Count



Monthly Video Count shows the number of videos related to each specific subject classified on our basis monthly. In this way, we can identify which subject is having a greater production of content by creators. It is possible to analyze data for the last 12 months.

If you still have any questions regarding the use of the Performance Tab inside a topic, please contact our support team at cs@winnin.com or contact your account manager directly. :)

Great insights await you!
#WinIt!