When you click on any creator inside Winnin Insights it will automatically redirect you to the Creator's profile page.
The creator profile page gathers data and information about the creator you want to know more about.
Within a creator profile page it is possible to browse through 5 available tabs: Overview, Videos, Accounts, Audience and Performance. Each one if these tabs contains specific information that will help you to decide wether this creator is going to be relevant, fit your strategy or not.
Overview
In this tab you'll find:
Overview of the creator's main metrics;
Topics that he creates content about - and the metrics by topic;
Profile bio (About);
Metrics over time in two types of visualization - monthly and cumulative;
Creator's most engaged videos - from the last 3 months;
Audience also watch - other creators that share the same audience with the one you're analyzing;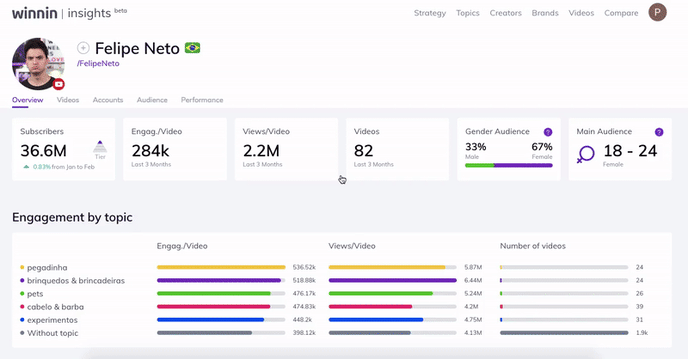 If you click on the See more button right below the Most Engaged Videos from the Creator's Profile, it will redirect you to the Videos tab from the Creator's Profile.
Videos
First you can filter the creator's videos by:
Topics - you can select which topics you wan't to see content about, by clicking on the purple topics buttons;
Upload date - Winnin Insights automatically displays the creator's video from the last 3 months, but you can change that by clicking on the Upload date button to other time periods such as: All time, Last 7 days, Last 30 days, Last 3 months, Last 6 months, Last 9 months or Last 1 year.
After you filtered the creator's videos you can:
Sort the videos by metrics: Engagement, views, Upload date, Likes, Dislikes and Comments;
Watch the videos by clicking on the video thumbnail - to perform a more qualitative analysis of the content.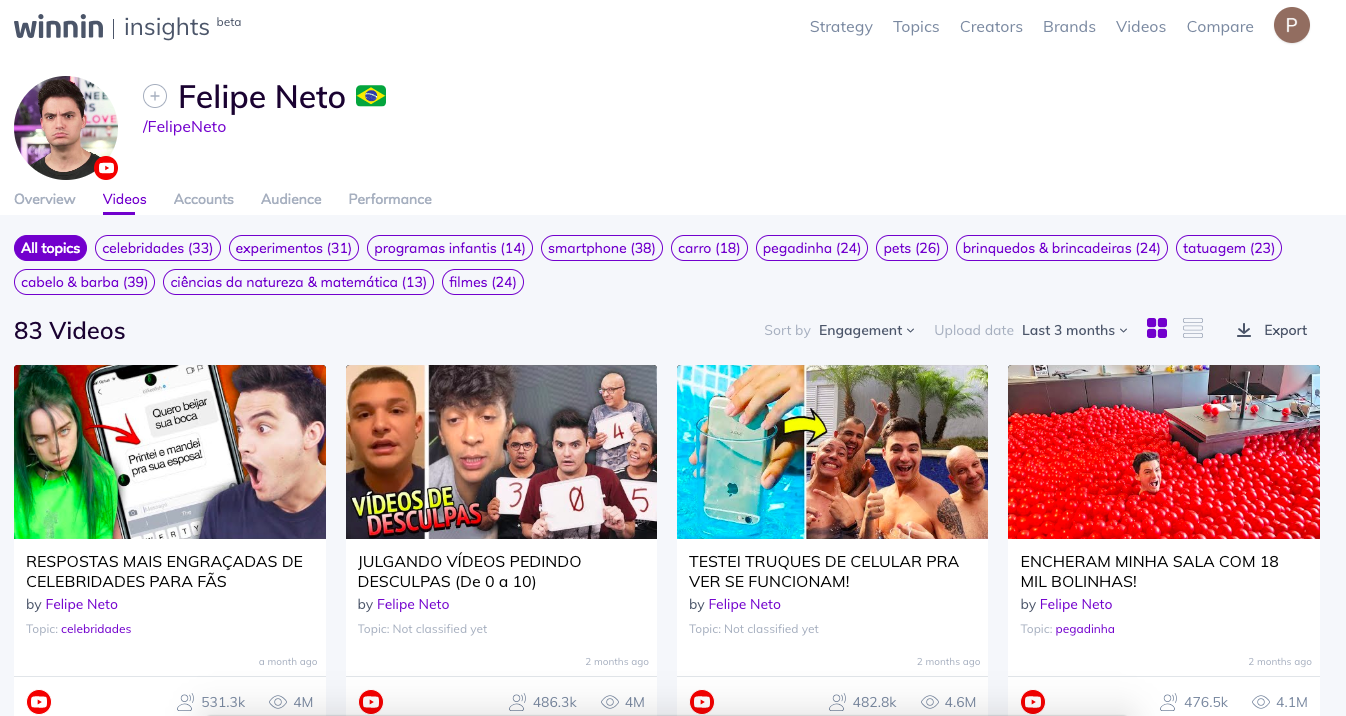 Accounts
In this tab you'll see all the accounts this creator on social media platforms and it's metrics. Where you can sort the accounts by metric such as Engagement, Views and Followers/Subscribers or Filter by Platform.
There's also an export feature available.

Audience
In this tab you'll find Audience metrics - such as Age, Gender and Audience Country Distribution - in charts visualizations to help on your analysis and strategic decision.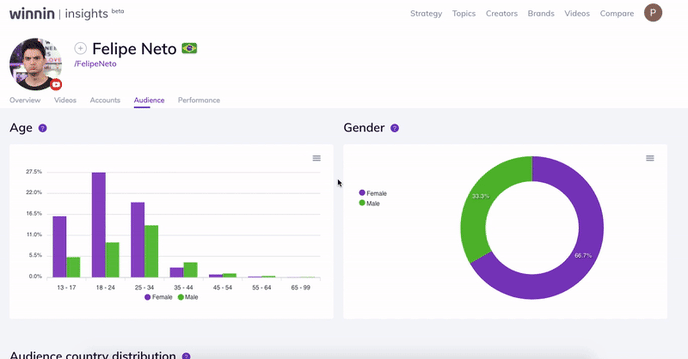 Performance
In this tab you'll be able to analyze the creator's performance metrics more in depth.
Analyze the creator's overall performance metrics according to four Data Ranges: Last 3 months, Last 6 months, Last 9 months and Last 1 year. Click on the Data Range button on the superior right corner to choose to change the data range.
Analyze graphs from the Last 1 year in two types of visualization - monthly and cumulative - related to:

Views;
Engagement;
Subscribers;
Number of Videos.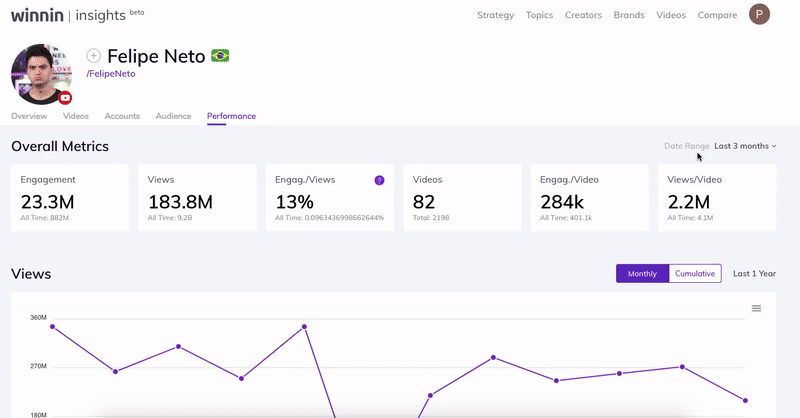 All this data is available to help on your strategic decision making, for example, when choosing creators to be part of your content strategy.
If you still have any questions about the Creators profile, contact our support team at cs@winnin.com or contact your account manager directly. :)
Great insights awaits you!
#WinIt!