In this article we will show you which informations are available in the Topics page and how to explore it.
The topics page contains information on relevant subjects that are mapped by our taxonomy team. These subjects are grouped into categories and also subdivided into smaller groups: topics, subtopics and tags. In this article, we'll cover the features and metrics on this page.

Watch the video tutorial on this article. Check them out!
Features available in the Topics page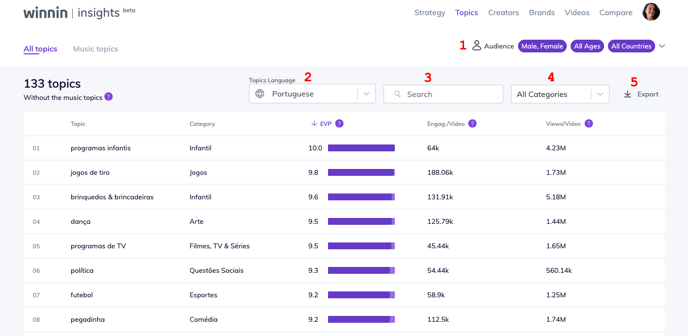 1. Audience
In this option it is possible to filter your target audience to find the topics that are really relevant to them.
For that you need to click on Audience, select the information you want and click on Apply. We'll show how to do it right below.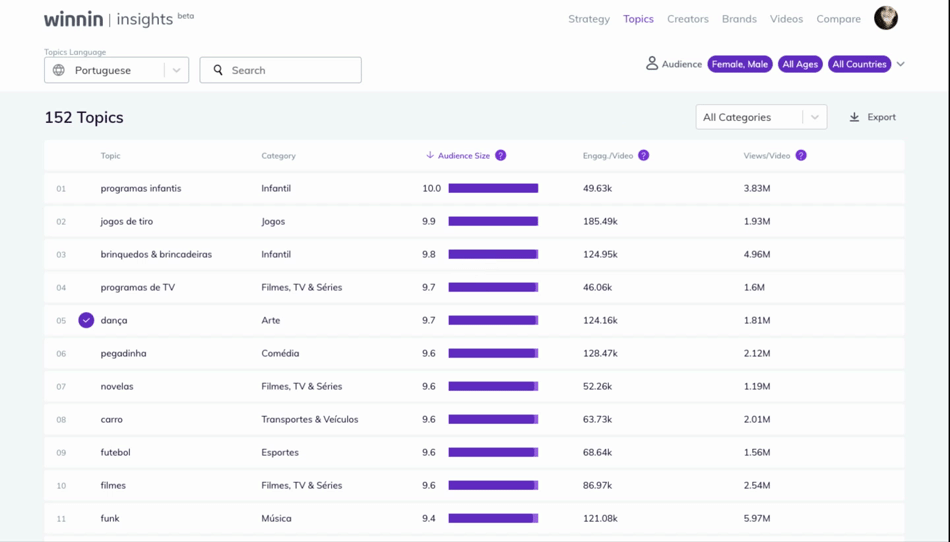 2. Topics Language
You can analyze topics performance in other languages, just check the available languages ​​by clicking on Topics Language. If you want to purchase an extra language package, simply contact our customer success team.

3. Search
This feature is used to search the categories or topics available on this page, making it easier to find specific subjects to be explored.

4. All Categories
The categories can be interpreted as passion points or territories. It's a feature that allows users to explore the topics inside of each category and compare them.
Always keep in mind that the topics order and metrics change when you input your audience as explained before.
If you want to explore a specific category, you can filter it by selecting from the available options.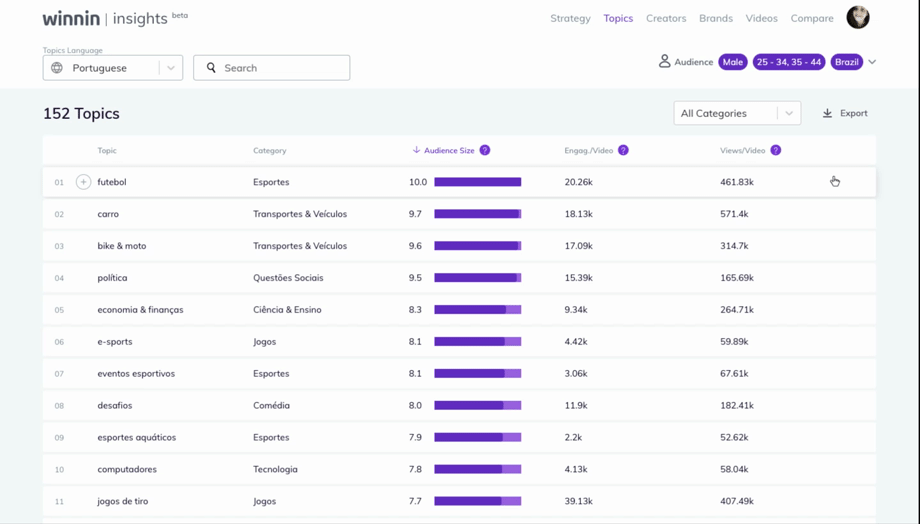 5. Export
The export feature is used to export data from a specific search performed, and it's a feature that allows the user to create other types of data visualization that makes more sense according to their analysis.
The exported data arrives in your e-mail available for download in .cvs or Excel format.
It is worth remembering that the use of this feature is limited within the month. When starting a new month this value will reset and the feature will be available again if you reached the usage limit. To check the availability of the export feature just click on the Export button and then on the Topics Summary option.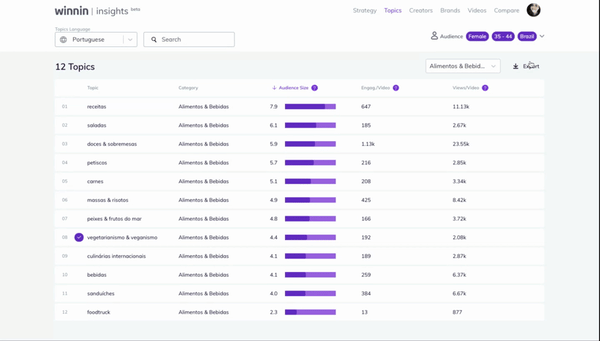 Compare feature inside the Topics page


In the topics page, you can select the subjects/topics you want to compare by clicking on the button next to the subject. When you have finished selecting the desired topics, just select Compare in the inner corner of the page to be redirected to the Compare page.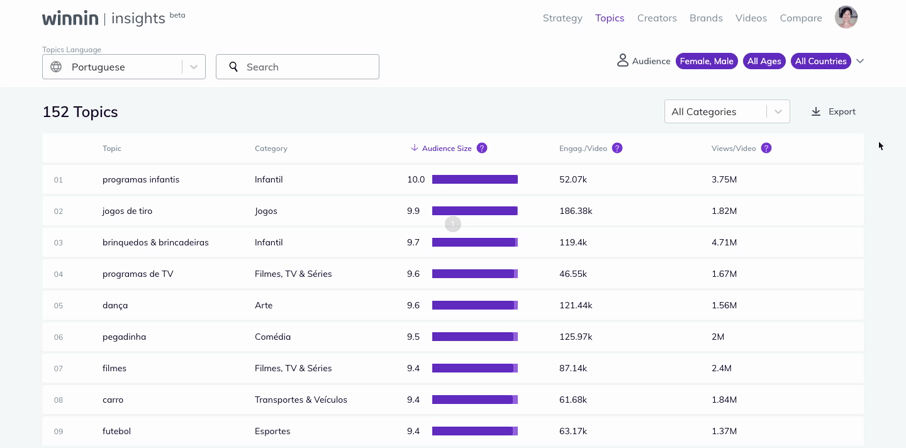 See more about this feature by clicking here.
Metrics available on the Topics page
The metrics available on the topics page are: audience, engagement and views. Below, we will detail what each one means and how to extract important information from it.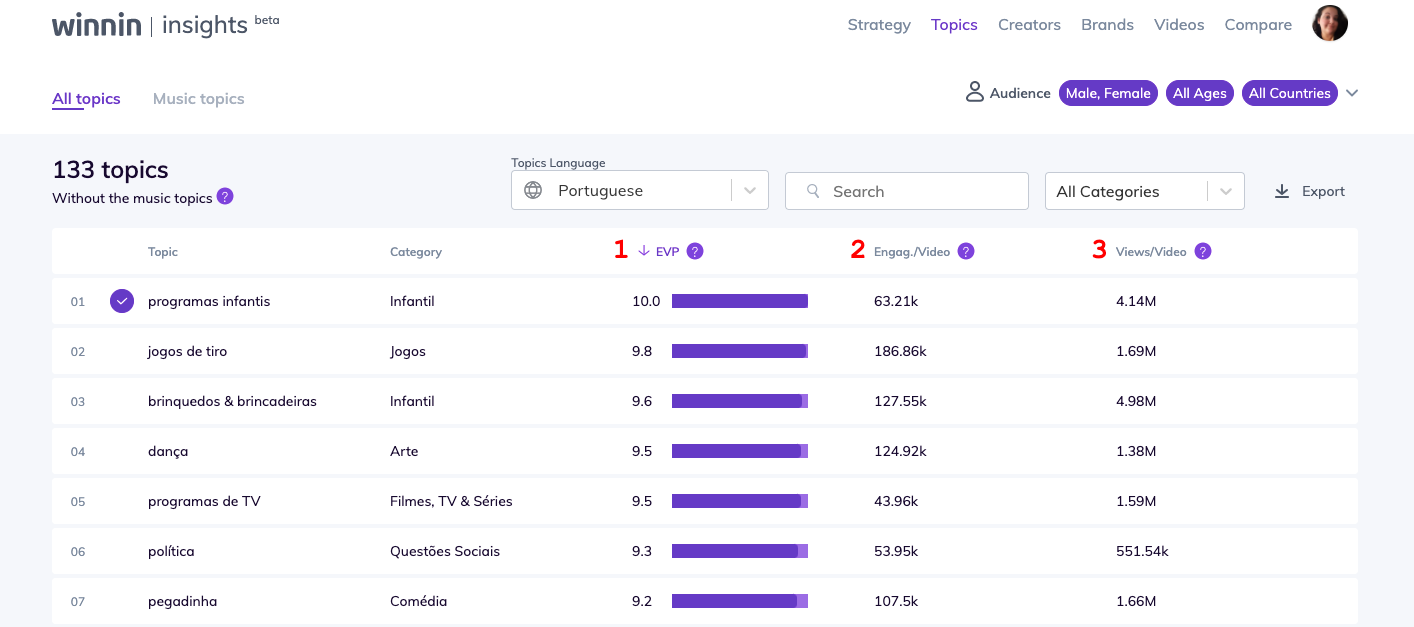 EVP - Estimated Viewership Potential



This metric takes into account how many unique views a video has. In this way, it is possible to measure the size of the audience that consumes this specific type of content.



Engag./Video - Engagement per video



Engagement per video is a metric calculated through the interactions that consumers have with a given sample of videos over a 1-year period.

Such interactions are likes, dislikes, shares and comments, that is, relevant actions that shows that the consumer is really interacting with a certain content.



Views/Video - Views per video



The Views per Video metric indicates an average view of videos related to that topic over the last year.

This metric is used to understand how much that subject/topic is viewed by the public over time.


If you still have any questions about the topics page, contact our support team at cs@winnin.com or contact your account manager directly. :)


Great insights awaits you!
#WinIt!