In this article we're going to show you how to explore the Creators page and extract insights from it.
The creators page presents information about creators from Facebook, Instagram and Youtube with two types of visualization - table or card.

Insights automatically display the biggest creators in the world that can be sorted by Best match, Engagement, Views, Engag./views, Followers/subscribers, Videos, Engag./video or Views/video.
They can also be filtered by platform, countries, tiers and number of videos.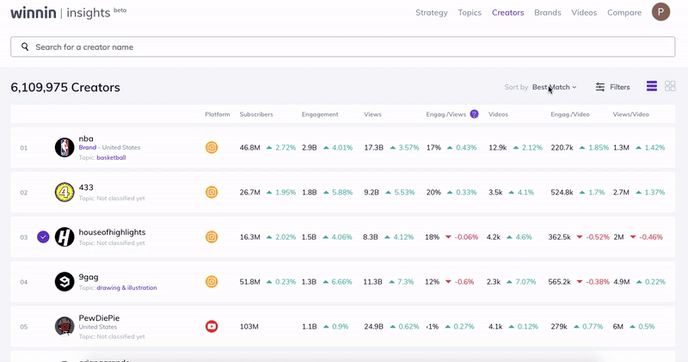 To search for a specific creator you must click on the search bar, type the name of the creator and Insights will return to you all the creators with names that match your search criteria.
If you want Insights to return the creator that matches the most with your search criteria you can click on the Sort by button and then press the "Best Match" option. But if you want Insights to return the creator that matches with metrics you just need to click on the same "Sort by" button and choose the metric you want.
The Sort by feature and the filters are very useful when you're searching for a creator that has more than one account, maybe on different platforms and/or countries.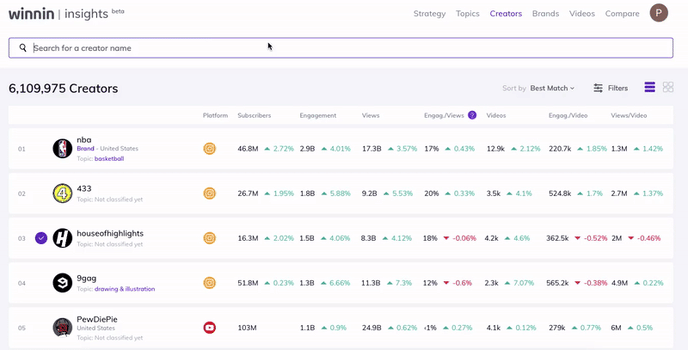 But let's get practical. What insights can you extract from this tab and how to do so?
Imagine you're looking for a creator that resonates with your content strategy and you want proof that he/she is the best option for your brand.
Search for the creator on the search bar;

Sort the creators by metrics and/or apply filters;

Analyze their performance metrics - including variations from the last 30 days - hover the mouse over the variations to see the time period it refers to;
Discover which topics they create content about - if the creator creates content about more than 1 topic hover the mouse over the + topics to see the full list of topics;
Compare creators or even compare the same creator but using accounts from different platforms or countries:


6. Add them to your Strategy Panel: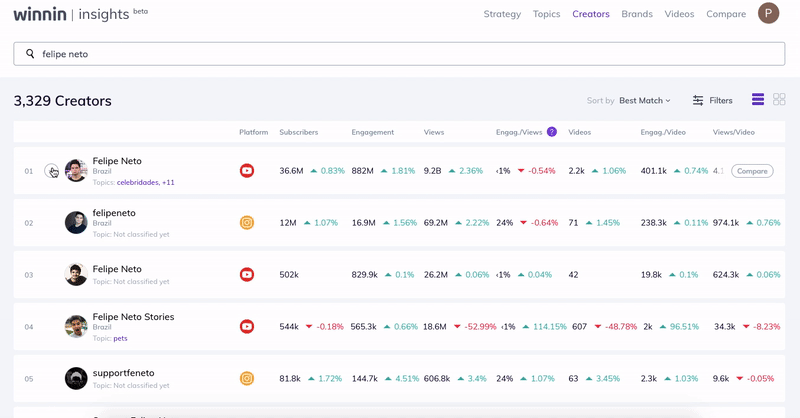 All of this to make your creative process more efficient and insightful, empowering your strategies to be more relevant to your consumers.
Last but not least you can click on each creator and this will redirect you to their profile page on Insights, which brings you more information and more metrics related to them. To know more about the creators profile page click here.
If you still have any questions about the Creators page, contact our support team at cs@winnin.com or contact your account manager directly. :)
Great insights awaits you!
#WinIt!