With Compare you can visualize, graphically and comparatively, data from the creators you want to analyze.
Imagine you need to choose an influencer for your content strategy but you still have doubts on how to make that decision more assertive and relevant to your audience. Compare is the Winnin Insights feature that will help you with that, by showing performance data and audience of the creators you're considering for your strategy.
1 - Access the Compare tab (in the superior right corner)
2- Select the Creators tab (above the search bar) and search for the influencers you want to compare
3- Enter two or more influencers and comparative data will be automatically generated by Insights.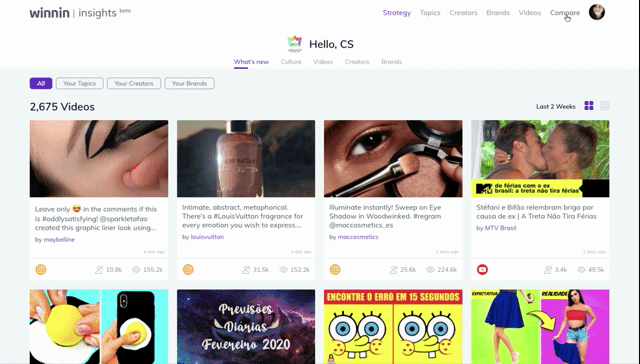 Compare Chart and Data
The Performance chart shows variation between one month to another. The automatic display will always be by Cumulative Engagement, that is, the value of each point on the graph represents the influencer's growth (or decrease) in that period. In addition to Engagement, you can also see Performance by Subscribers, Views and Number of Videos and also change the view to Monthly, obtaining several graphics that will help you with your decision making.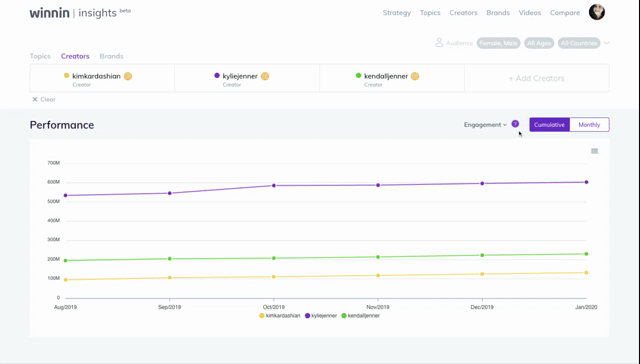 In addition to Performance, Compare also shows the Average Engagement and Views per creator and the Average Engagement and Views per video for each of the influencers you chose; and last year metrics so you can compare and draw your conclusions.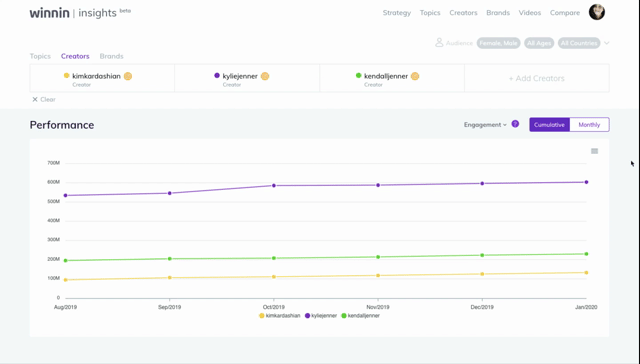 Great insights awaits you!
#WinIt!