In this article we will teach you how to add information to your Strategy Board and how to turn that information into opportunities.
First things first. The strategy board is the place where you can concentrate and integrate your strategy to find relevant brand opportunities. There, you can visualize topics, videos, creators and brands that you want to keep track of and get inspiration from. All of this to empower your creative process.
And it's very important to constantly feed and explore your Strategy Board in order to achieve that.
So, the first step to start feeding your Strategy, according to our creative framework, is to find out what content your audience is engaging with and what is relevant to them by exploring the Topics tab.
Adding Topics
Choose the audience you want to reach by clicking on Audience and choose the filters you want to apply (Gender, Age and Country);


Find which are the most relevant topics for strategy by filtering them by categories and/or using our metrics (EVP, Engag./Video and Views/Video)




Hover your mouse cursor over the topic and select the + button to pin the topics you are interested to be displayed on your board.


Adding Subtopics


All topics are clickable, and if you click on them you'll find more information, such as subtopics and tags, which you can also pin to your board and keep track of by clicking on the same + button.



Adding videos
For a qualitative and even more granular analysis, click on the topic of interest and watch the most engaged videos to understand the cultural context of the topic and pin the videos you consider relevant. By hovering your mouse over the videos, the pin option will appear, as shown in the image below.

Besides Topics, we suggest that you also explore and keep track of Brands and Creators on your Strategy Board.
Adding Brands

By adding Brands to your Strategy Board, such as competitors and/or benchmarks, it becomes easier to monitor their performance, understand their differential, be inspired and improve your strategy.
To pin them, go to Brands, input the brand you want to search for on the Search bar and pin as many as you want!
To facilitate your search process, you can use Filters to define the platform (Instagram, Facebook and Youtube) and the brand's country of origin.
When you click on the + button to add the brand you chose, you'll se two options where you can classify the brand as your competitor or benchmark and then you must press Save.
As with topics, you can browse the brand's videos and pin as many as you like to your board.

Adding Creators
To pin creators/influencers, just access the Creators tab and do the same process.

If you have not defined which Brands or Creators to follow yet, you can explore inside Topics, Subtopics and Tags, Winnin Insights indicates brands and creators that are related to the topic.
If you haven't defined yet which brands and/or creators you want to add to your strategy, you can search for them within the Topics, Subtopics and Tags. There you'll find the most engaged creators and brands according to each subject - Topic, Subtopic or Tag.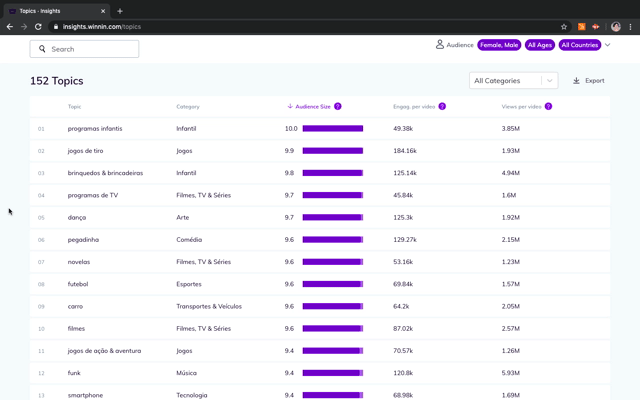 There's endless creative opportunities within Winnin Insights platform.
If you still have any questions about how to set up your strategy board, contact our support team at cs@winnin.com or your account manager directly. :)
Great insights awaits you!
#WinIt!